Zion and Bryce Canyon National Parks
October 8th – October 14th, 2018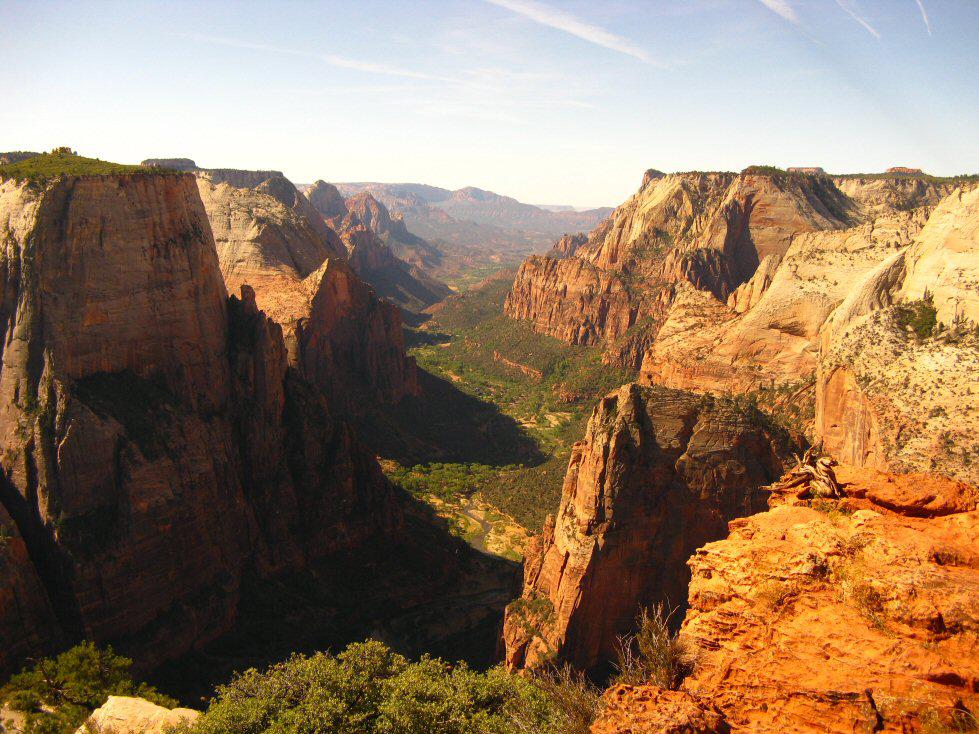 Zion Canyon (taken from Observation Point in Zion NP)
"Zion National Park Utah, USA – Trails Illustrated Map

" (National Geographic Maps)

"Bryce Canyon National Park Utah, USA – Trails Illustrated Map

" (National Geographic Maps)

"Hiking Zion and Bryce Canyon National Parks: A Guide to Southwestern Utah's Greatest Hikes

" (Regional Hiking Series) by Erik Molvar (A Falcon Guide)
Zion and Bryce Canyon NPs Overview
Zion National Park encompasses some of the most scenic canyon country in the United States. Within its 232 square miles are high plateaus, a maze of narrow, deep, sandstone canyons, and the Virgin River and its tributaries. Zion also has 2,000-foot Navajo Sandstone Cliffs, pine- and juniper-clad slopes, and seeps, springs, and waterfalls supporting lush and colorful hanging gardens.
With an elevation change of about 5,000 feet from the highest point at Horse Ranch Mountain (at 8,726') to the lowest point at Coal Pits Wash (at 3,666'), Zion's diverse topography leads to a diversity of habitats and species. Desert, riparian (river bank), pinyon-juniper, and conifer woodland communities all contribute to Zion's diversity. Neighboring ecosystems – the Mojave Desert, the Great Basin, and the Rocky Mountains – are also contributors to Zion's abundance.
The park has more than 1,000 species of plants ranging from tall, graceful cottonwoods growing along the river to towering pines and firs shading the higher elevations. Prickly pears, cholla, and yucca are among Zion's desert-adapted plants. The hanging gardens support brilliantly-colored Zion shooting-stars, scarlet monkeyflowers, and Western and golden columbines.
Zion's plant communities, in turn, provide food, shelter, and nesting places for Zion's diverse wildlife. There are approximately 78 species of mammals, 30 species of reptiles, and 291 species of birds. Endangered California condors soar above the cliffs of Zion and threatened Mexican spotted owls live and raise their young in Zion's narrow canyons.
The geologic formations of Zion (formed over 250 million years) record periods of time when this area was covered by a shallow sea, when huge sluggish rivers meandered across the landscape, and when a vast desert covered the region. The sand dunes of this desert are now Zion's famous sculpted and colorful 2,000-foot cliffs.
PETS: Must be on a leash no longer than six feet at all times. They are not allowed on shuttle buses or in public buildings within Zion NP. When properly restrained they are allowed along public roads and parking areas, in the developed campgrounds and picnic areas, and on the grounds of the Zion Lodge.
Bryce Canyon National Park is a scientist's laboratory and a child's playground. Because Bryce transcends 2000 feet (650 m) of elevation, the park exists in three distinct climatic zones: spruce/fir forest, Ponderosa Pine forest, and Pinyon Pine/juniper forest. This diversity of habitat provides for high biodiversity. Here at Bryce Canyon, you can enjoy over 100 species of birds, dozens of species of mammals, and more than a thousand plant species.
It is the uniqueness of the rocks that caused Bryce Canyon to be designated as a national park. These famous spires, called "hoodoos," are formed when ice and rainwater wear away the weak limestone that makes up the Claron Formation. However, the hoodoos' geologic story is also closely tied to the rest of the Grand Staircase region and the Cedar and Black Mountains volcanic complex. In short, Bryce Canyon has enough fascinating geology to fill a textbook.
PETS: Must be on a leash under six feet long at all times. They are not permitted on unpaved trails or viewpoints, in public buildings, or on public transportation vehicles (these regulations also apply to pets that are carried). When properly restrained pets are permitted on all paved surfaces in the park: campgrounds, parking lots, paved roads, and paved viewpoint areas.
CAMPSITE RESERVATION FEE PER INDIVIDUAL = $30.00 per person.
Please send a check, made out to Les Wilson, in the amount of $30.00 per person, to:
Les Wilson
4268 Roxbury Street
Simi Valley, CA 93063-1162
NOTE: The couple who separately reserved a campsite for their RV AND the couple who reserved a room in Springdale are exempt from this fee (since they paid separately for their accommodations).
ENTRANCE FEE: There is an entrance fee for each vehicle entering the park. A 7-day pass is available for $30.00. Seniors may show their Senior Pass [formerly Golden Age Pass] instead. If you are 62 years old or older and don't have a Senior Pass, one can be purchased for a one-time fee of $80.00 [and it's good for the rest of your life, unless you lose it or don't have it with you].
NOTE: There is a similar entrance fee at BRYCE CANYON NP, so if we hike there during our trip we should ensure that we carpool with at least one "senior" [who has her/his Senior Pass with her/him] in each vehicle.
GAS STATIONS (near ZION NP): There are no gas stations within the Zion park boundaries. Fill your vehicle's gas tank in Springdale (on Utah Highway 9) before entering the park via the south entrance:
o Shell = 962 Zion Park Blvd (aka Hwy 9), Springdale UT
o Chevron = 1593 Zion Park Blvd (aka Hwy 9), Springdale UT
GAS STATION (near Bryce Canyon NP): There are no gas stations within Bryce Canyon park boundaries. However, there is a Sinclair gas station at the intersection of state Hwy 63 and Center Street (near Ruby's Inn RV Park and Campground) a short distance north of the entrance to the park.
CAMPGROUND/CAMPSITES: We'll be camping at the Watchman Campground (4,000') [37.10162°N / 112.99417°W] just inside the south entrance to Zion National Park. The campground is just a short walk from the main visitor center, the Zion Canyon Shuttle System, and the adjacent town of Springdale. Named for the rocky peak that rises above it, the campground is surrounded by tall sandstone cliffs that glow red and orange during sunrise and sunset. The Virgin River, a narrow but powerful river that has carved out the canyon over time, runs adjacent to the site. Cottonwood trees surrounding the campground turn golden in the fall. Although the campground is moderately forested, most of the campsites are in partial-to-full sun.
CAMPGROUND FACILITIES: Toilets, drinking water, and picnic tables are provided at this facility. Tent-only, non-electric sites [such as Loop D] do not permit vehicles 19 feet and over or in combined length. Group sites are also tent-only and can accommodate between seven and 40 people. Standard electric sites have electrical hookups and most can be used for either tent or RV camping (two are wheelchair accessible). There are no full-hookup campsites but a dump station is available for campers.
FOOD STORAGE: Food must be stored in a vehicle or hard-sided lockable container.
FIRES are allowed in fire grates at each site.
PARKING: Overflow parking is available at the amphitheater in B loop, in the South Campground amphitheater parking lot, and in the Zion Canyon Visitor Center parking lot.
SHOWERS/LAUNDRY: There are no shower or laundry facilities in Zion NP. These amenities can be found outside the park in the town of Springdale:
1. Zion Outfitter (435-772-5090) – 7 Zion Park Blvd – HOURS: 8 AM – 7 PM – – – [1] Showers: 4 men's/4 women's – $4.00 for 5 minutes; [2] Laundry: $4.00/wash and $2.50/dry – – – Quarters are required.
2. Zion Mountaineering School (435-319-0313) – 868 Zion Park Blvd (behind the Pizza Noodle) – HOURS: 8 AM – 6 PM. – – – Showers: 5 stalls – $5.00 for 7 minutes. – – – Token(s) required
CAMPSITE NUMBERS: We have reserved campsites 23, 26, 28 in Loop D in the Watchman Campground.
Please plan to arrive on the afternoon of Monday, October 8th.
Non-refundable campground fees are shared equally among all those who have signed-up.
NOTE: We are allowed two (2) vehicles per site, times 3 sites, which is six (6) vehicles total. Above and beyond our prepaid campground fees, a second-vehicle fee ($9 per site-that-has-a-second-vehicle per day = $54) is payable at the campground kiosk (we can't pay it ahead of time). It appears that the six tent campers will arrive in three (3) vehicles so we should NOT incur a second-vehicle fee.
Effie Stantzos — Campsite D028
Lilia Alcantara– Campsite D028
Michele Sumandra – Campsite D023
Doug/Margarita Marsh — Campsite B015 (RV)
Karen/Steve Cruise – Motel room in Springdale, UT
Yasa Rasakhoo – Campsite D026
Caroline Carroll – Campsite D026
Who's Driving/Riding with Whom?
Les Wilson, Michele Sumandra, and Effie Stantzos

Doug & Margarita Marsh

Karen & Steve Cruise

Caroline Carroll and Yasa Rasakhoo

Lilia Alcantara
GPS Info. (Latitude, Longitude):
37.19861, -112.98639
37°11'55″N, 112°59'11″W
From Las Vegas, St. George or other points south on Interstate 15: Travel north to Exit 16, toward Hurricane. Follow State Route 9 east for 12 miles to La Verkin and turn right to continue on State Route 9 toward Zion National Park. After passing through Springdale, you'll arrive at the South Entrance of Zion National Park. Take the first right after the entrance station toward the Visitor Center. After passing the Visitor Center, you will enter Watchman Campground. Stop at the campground kiosk for directions to your campsite.
DRIVING DISTANCE: The driving distance from Simi Valley to the Watchman Campground is about 475 miles.
Regarding LARGE VEHICLES: The Zion-Mt. Carmel Tunnel connects Zion Canyon to the east side of the park. Vehicles 11'4" tall-or-taller or 7'10" wide-or-wider require one-lane traffic control through the tunnel (i.e., rangers stopping all other traffic to let your large vehicle pass through in the center of the road in the tunnel). There is a $15.00 fee per vehicle in addition to the park entrance fee. Large vehicles may only travel through the tunnel during specific daylight hours from April 30th to September 17th. NOTE: No mention is made of time-of-day restrictions the rest of the year (so you should check with park personnel to clarify any restriction or prohibition the rest of the year during our trip since our trip is in October).
click here to go to the top of the page
Tent
Food: breakfast, trail snacks (lunch) and dinner
Camp stove
Cooler
Daypack
Hiking pole(s)
Sturdy boots
Water shoes for hiking The Narrows in the Virgin River (literally in the river)
Windbreaker
Walkie-talkie radio on channel 7, privacy code 10 (if you have such a device)
Camera + lots of "film" + spare batteries
Water bottles
Sleeping bag
Pillow
Mattress/sleeping pad
Clothes
Sunglasses
Hat
Sunscreen
Eating utensils
Cooking pots & pans
Flashlight + spare batteries
Medications
Quarters (for use in the coin-operated showers/washers/dryers)
Raingear
Trash bags
click here to go to the top of the page
Monday afternoon: Zion National Park Watchman Campground (4,000')
Arrive, check in, and set up camp
The Watchman Trail

(

3 miles RT w/400' elevation gain/loss

).
Tuesday: Zion National Park
Angels Landing

(5,790') –

5 miles RT w/1,500' elevation gain/loss
NOTE: The trail leading to Angels Landing has been closed "until further notice." We'll probably have to replace this hike with another outing

.

Angels Landing plus

(optionally)

the West Rim Trail to Cabin Spring

–

11 miles 2,800' elevation gain/loss
Wednesday: Bryce Canyon National Park (one of the following trails)
Rainbow Point – Riggs Spring Loop (counterclockwise)

–

8.8 miles w/1,550' elevation gain/loss
Fairyland Loop

(

clockwise

) –

8.9 miles w/2,309' elevation gain/loss
SHOWERS/LAUNDRY: Coin-operated shower and laundry facilities are available at the General Store in Bryce Canyon NP during spring, summer, and fall.
Thursday: Zion National Park
Observation Point

–

8 miles RT w/2,240' elevation gain/loss
Friday: Tourist Day – TBD
Saturday: ONE OF THE FOLLOWING
NOTE: It could very well be too cold to do this. Bring your water shoes (because we'd be in the river much of the day).
Bryce Canyon National Park – – – "Figure 8" Loop (Navajo Trail + Peekaboo Trail) – 7 miles w/1,600' elevation gain/loss
Sunday afternoon: Strike camp and depart
Alternative Sightseeing
o Cedar Breaks National Monument – 90 miles one way (~2 hours)
o Kodachrome Basin State Park – 100 miles one way (~2.25 hours)
NOTE: This park is only about 25 miles from the entrance to Bryce Canyon National Park.
o Grand Canyon National Park North Rim – 160 miles one way (3.5 hours)