Wildwood Park – Arroyo Conejo Creek, Lynnmere Trail Loop
When:
May 14, 2022 @ 8:00 am
2022-05-14T08:00:00-07:00
2022-05-14T08:15:00-07:00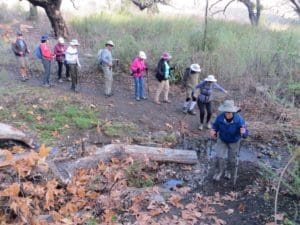 7.9 MRT – Moderate (1,200' of elevation gain/loss)
DIRECTIONS TO THE TRAILHEAD: Take Madera Road south past Wood Ranch (where the road's name changes to Olsen Road) to the Highway 23 overpass. Continue west on Olsen Road under Highway 23 and drive 5 miles to its junction with Camino Manzanas [NOTE: The name of the street will change from Olsen Road to Lynn Road along the way]. Turn right on Camino Manzanas and drive 0.4 mile to Calle Yucca (the 3rd cross street). Turn right on Calle Yucca and drive 1.1 miles to the end of the street.
Our hike will begin by descending into the shady canyon through which the Arroyo Conejo Creek runs. The trail (an old dirt road) passes through a pleasant woodland of oak and walnut trees; we'll cross the creek four times (hiking poles are advised) before reaching the new (2005) Hill Canyon Wetlands, home of coots, mallards, herons, and pond turtles. Leaving the wetlands, we'll make our final "wet" stream crossing and then follow a route that will take us upstream through Wildwood Canyon and Paradise Falls. Then we'll hike up a fairly steep dirt road until it meets the Lynnmere Trail. Taking the west fork, we'll follow the trail around the north side of the mountain to the top of the mountain, affording us with a spectacular 360-degree view of the surrounding mountains. We'll then descend back to the original trailhead.