Oak Flat Trail to Whitaker Peak
When:
May 30, 2020 @ 8:00 am
2020-05-30T08:00:00-07:00
2020-05-30T08:15:00-07:00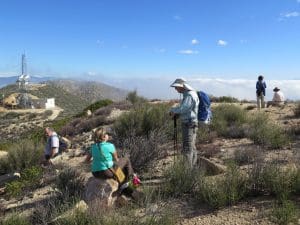 10 MRT – Moderate to Strenuous (2,200′ elevation gain)
Meet at 8 AM at the 118 & Stearns St. Park & Ride. Bring your camera, water and lunch. Wear boots.
What's the weather like atop Whitaker Peak?  Click here to find out.
After driving to the parking area (2,831') just outside the Verdugo Oaks boy-scout camp (adjacent to the Oak Flat Fire Station), we'll head up the well-maintained Oak Flat trail as it rises 1.5 miles through an oak woodland and then chaparral to the Whitaker Ridge dirt road (3,820').  From there we'll follow it to the dirt Whitaker Peak Road which we'll follow to its end (4,119'), enjoying "ever-widening vistas of fault-tortured canyon country."  There will be views of Pyramid Lake and Lake Piru during the hike.  We'll return the way we came.