When:
May 7, 2022 @ 8:00 am
2022-05-07T08:00:00-07:00
2022-05-07T08:15:00-07:00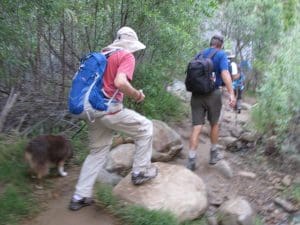 6.5 MRT – Moderate (1670′ elevation gain)

DIRECTIONS TO THE TRAILHEAD ON "THE OLD ROAD" IN SANTA CLARITA: From the junction of I-5 and I-405 (heading north toward Santa Clarita Valley). Drive 6.5 miles north on I-5 to the Calgrove Blvd exit (#166). Take the Calgrove Blvd exit and then turn left (west) onto Calgrove Blvd. Drive under I-5 to "The Old Road" and turn left (south) onto "The Old Road." Drive 0.3 mile south on "The Old Road" to the entrance to "Ed Davis Park at Towsley Canyon". Turn right into the parking lot at "Ed Davis Park at Towsley Canyon," park, and wait for the hiking leader(s) and the rest of the hikers. NOTE: Drive into the park and drive past the parking spaces next to "The Old Road" to the parking spaces on the right a short distance up the dirt road in the park.
The "Ed Davis Park at Towsley Canyon" is located in the 4,000-acre Santa Clarita Woodlands Park on the northeastern slope of the Santa Susana Mountains. Our hike will begin along a dirt road toward the ranger station and the Sonia Thompson Nature Center, crossing Towsley Creek on a concrete bridge. Then we will begin a counterclockwise hike on the Towsley View Loop Trail. After passing through The Narrows section of Towsley Gorge, the trail begins rising eastward via switchbacks with views of the verdant mountains to the south. At the 2,450' high point on the trail much of the Santa Clarita Valley can be seen. We'll then descend into Wiley Canyon and take the Canyon View loop trail back to the nature center before returning to the parking lot.