When:
July 13, 2019 @ 7:00 am
2019-07-13T07:00:00-07:00
2019-07-13T07:15:00-07:00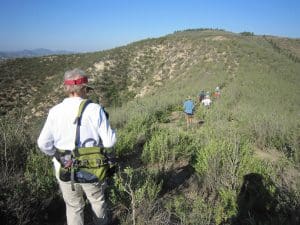 7.7 MRT – Moderate (1,600' of elevation gain/loss.)
The hike begins at the Tierra Rejada Park trailhead at the north end of Stargaze Place. Initially we'll head toward the Arroyo Simi, but will soon head uphill to the west along an Edison Road. We'll enjoy wide-ranging views of the surrounding mountains and valleys. Bring trail snacks and 2 to 3 quarts of water.
DIRECTIONS TO THE TRAILHEAD:
Take Hwy 118 to the Madera Road exit in Simi Valley.
Drive south on Madera Road 0.9 mile to its intersection with Tierra Rejada Road [at a traffic light].
Turn right (west) onto Tierra Rejada Road and drive 0.6 mile to its intersection with Stargaze Place.
Turn left onto Stargaze Place and park on the right (west) side of the street next to Stargaze Park.
Exit your car and walk north on Stargaze Place, crossing Tierra Rejada Road, to the north to the signed trailhead.