Simi Peak from King James Court via China Flat
When:
October 2, 2021 @ 8:00 am – 12:00 pm
2021-10-02T08:00:00-07:00
2021-10-02T12:00:00-07:00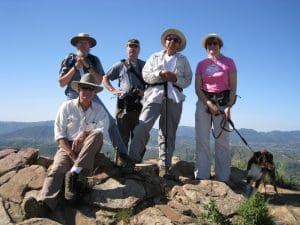 6.3 MRT – Moderate to Strenuous (~1,500′ elevation gain/loss)
DIRECTIONS TO THE TRAILHEAD: Head west (toward Moorpark) on Highway 118 and continue on the same road as its name changes to Highway 23 when it curves to the south (toward Thousand Oaks). Upon reaching the junction of Highway 23 and Highway 101, head "south" (toward Los Angeles) on Highway 101. Drive 3.75 miles "south" (toward L.A.) on Highway 101 to the Lindero Canyon Road exit. Turn left (north) on Lindero Canyon Road and then drive 3.8 miles north/east to King James Court (on your left). Drive past King James Court 0.1 mile to Wembly Avenue (on your left). Turn around and park on the north side of Lindero Canyon Road
Our hike in the Simi Hills will begin along a single-track trail, but will soon continue on an old dirt-and-rock road as it rises up the south side of the mountain, providing ever-expanding views to the south. Upon reaching the apex of the old road, we'll descend into lovely China Flat with its oak trees and sprawling grassy meadows. Then we'll follow a trail that leads up to Simi Peak (2,403'), the highest point in the Simi Hills, where we'll have a panoramic view of the surrounding area.