Serrano Canyon + Serrano Valley Loop from Sycamore Cove
When:
August 6, 2022 @ 8:00 am
2022-08-06T08:00:00-07:00
2022-08-06T08:15:00-07:00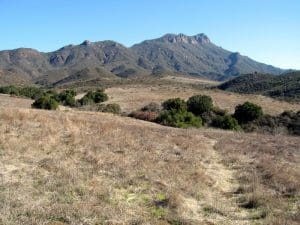 8 Mile Lollipop Loop – Moderate (1,000' elevation gain)
DIRECTIONS TO TRAILHEAD: In Simi Valley, take Highway 118 west to Highway 23; then head south on Highway 23 to Highway 101 in Thousand Oaks. Drive "north" on Hwy 101 12.5 miles to the Las Posas Road exit in Camarillo.
Then drive south (toward the ocean) 7.2 miles to Pacific Coast Highway (PCH aka Highway 1) [the on-ramp is on the ocean side of the bridge that crosses PCH at that point]. Drive "south" (toward Los Angeles) on PCH 5.8 miles to the parking lot entrance SYCAMORE COVE BEACH (on the ocean side of the road). NOTE: It's almost directly across PCH from the parking lot entrance to the Big Sycamore Canyon Campground. If there's a human parking-fee taker, pay her/him; otherwise, pay the "Electronic ranger" [machine] at the entrance to the parking lot. NOTE: The parking fee is about $12.00.
Click here to see a weather report for the trailhead.
The hike will begin by crossing under Hiway 1 via a tunnel, followed by a stroll through the Big Sycamore Canyon Campground. We'll then follow the nearly level Big Sycamore Canyon Fire Road one mile to the junction with the Serrano Canyon Trail. Our route will then head east through the partially shaded canyon to Serrano Valley where we'll hike in a clockwise loop around the valley. There's poison oak along the trail in Serrano Canyon so, please be advised.