Santa Rosa Valley Park and Hill Canyon Open Space
When:
January 8, 2022 @ 8:00 am
2022-01-08T08:00:00-08:00
2022-01-08T08:15:00-08:00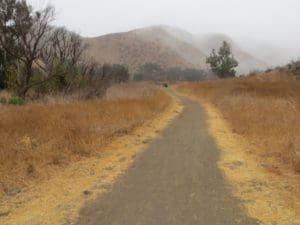 6 MRT – Moderate (800′ elevation gain/loss)
DIRECTIONS TO THE TRAILHEAD: From Simi Valley, take Los Angeles Avenue west and then continue west (past the large Target store) as the name of the street changes to Tierra Rejada Road. Drive 3.9 miles (passing under Hwy 23) to Moorpark Road. Turn left (south) and drive 1.4 miles to Santa Rosa Road. Turn right (west) and drive 3.7 miles to Hill Canyon Road. Turn left and drive a short distance to the entrance to Santa Rosa Valley Park (on the right) – DO NOT turn right and enter the park (unless you're willing to pay the parking fee). Park in the dirt parking area on the left (east) side of Hill Canyon Road opposite the park entrance (presuming that's still possible).
This hike begins at the Santa Rosa Valley Park in the Hill Canyon Open Space just west of Wildwood Park. The trail immediately crosses 25-foot-wide Arroyo Conejo Creek via a bridge; it then passes through grasslands, follows a seasonal stream through Hawk Canyon (a dense riparian woodland with poison oak), and follows dirt roads to an overlook of the Oxnard Plain and the Pacific Ocean.