When:
March 30, 2019 @ 8:00 am
2019-03-30T08:00:00-07:00
2019-03-30T08:15:00-07:00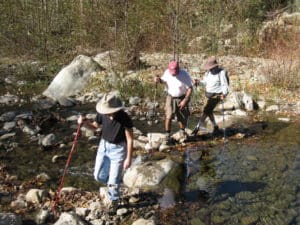 8 MRT – Moderate to Strenuous (1,700′ elevation gain/loss)
Meet at 8 AM near Donut Delite at the corner of Madera and Royal.
Our out-and-back hike in Santa Paula Canyon will begin at the trailhead on Highway 150 a few miles northwest of Santa Paula. As we head upstream, we'll skirt the campus of Thomas Aquinas College, the Ferndale Ranch, avocado groves, and an oil field with mountains looming in the distance. We'll cross Santa Paula Creek more than once; sycamore and alder trees should provide some shade. Eventually we'll cross to the east side of the stream and follow a trail (an old dirt road narrowed by erosion and plant growth) as it climbs part way up the mountain and through the Big Cone Campground with its grove of big cone Douglas fir trees. Soon after passing the campground we'll reach a tributary of Santa Paula Creek; we'll follow it downstream to a picturesque waterfall and punchbowl. We'll then return to the main trail (the Last Chance Trail) and follow it to the slick-rock slide area a short distance above the waterfall. We'll return the way we came.