San Buenaventura State Beach
When:
July 30, 2022 @ 7:45 am
2022-07-30T07:45:00-07:00
2022-07-30T08:00:00-07:00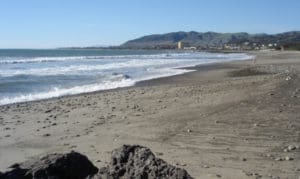 7.1 MRT – Easy (120′ elevation gain/loss)
DIRECTIONS TO TRAILHEAD: In Simi Valley, take Highway 118 west to Highway 23; then head south on Highway 23 to Highway 101 in Thousand Oaks. Head "north" (toward Ventura) on Highway 101; drive 25 miles to the Seaward Avenue exit (#68) in Ventura. Turn left (toward the ocean) onto Seaward Avenue and drive over Hwy 101 a little over 0.1 mile to Pierpont Blvd. turn left (southeast) onto Pierpont Blvd and drive 0.7 mile to its junction with Greenock Lane on the right. Turn right and drive 0.1 mile southwest on Greenock Lane to as close as you can get to the end of the street (the end of the street is adjacent to the beach).
Click here to see the weather forecast at the trailhead.
Our hike will be in the Pierpont Bay area between the Marina Park/Ventura Harbor and the Ventura River estuary. Our hike will pass the Ventura Pier, Promenade Park, Surfers Point at Seaside Park, and the Ventura County Fairgrounds Beach before reaching the wetland estuary.