When:
August 7, 2021 @ 7:00 am
2021-08-07T07:00:00-07:00
2021-08-07T07:15:00-07:00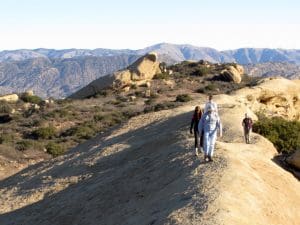 3.5 Mile Loop – Easy to Moderate (750′ of elevation gain/loss)
DIRECTIONS TO TRAILHEAD: From Simi Valley, take Highway 118 to the Kuehner Drive exit. Take Kuehner Drive 0.9 mile south to Katherine Road. Turn right (west) on Katherine Road and drive 0.5 mile to an intersection at which Katherine Road makes a 90-degree turn to the left (south). Drive 0.2 mile south on Katherine Road (crossing the railroad tracks along the way) to a junction with Oak Knolls Road. Turn right (west) on Oak Knolls Road and drive 0.1 mile to a junction with Black Canyon Road. Turn left on narrow Black Canyon Road and follow it 1.9 miles as it winds steeply uphill to Sage Ranch Park. Turn right at the signed entrance to the park (and then immediately left) into the parking lot.
This 625-acre park is located in the Simi Hills just north of the Santa Susana Field Laboratory (SSFL) (aka Rocketdyne/Boeing) at an elevation of 2,000'.  It is full of world-class sandstone rock formations and the trail provides great views of Simi Valley and the mountains to the north.  NOTE: A relatively short section of the original loop trail was closed in mid-2017 for the cleanup of the former trap and skeet range in that area.  To compensate, a new "detour" section of trail has been established; it bisects the ranch and provides views of the heretofore unseen center of Sage Ranch.  Our hike will be counterclockwise.