Newton Canyon and the Backbone Trail
When:
July 16, 2022 @ 7:45 am
2022-07-16T07:45:00-07:00
2022-07-16T08:00:00-07:00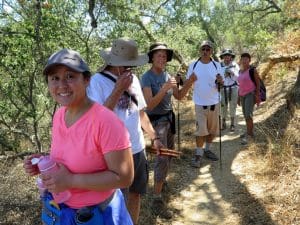 6.2 MRT – Moderate (1,280′ elevation gain/loss)
DIRECTIONS TO THE TRAILHEAD: From Simi Valley, take Highway 118 west to Highway 23; take Highway 23 south to Highway 101.
Take Highway 101 6.25 miles "south" (toward L.A.) to the Kanan Road exit. Turn right (toward the ocean) on Kanan Road and drive 6 miles to its intersection with Mulholland Highway [you will have driven through two tunnels]. Continue through the intersection staying on Kanan Dume Road (same road, different name). Drive 1.7 miles to a very nice paved parking lot on the right (west) side of the road (just before you reach the 3rd tunnel which is named Tunnel #1). Turn right into the parking lot, park your vehicle, and wait for the hiking leader(s). If the parking lot is full you may park across the road.
Our hike begins at the point that the Backbone Trail crosses Kanan-Dume Road. The pleasant, heavily forested, and mostly shady Newton Canyon trail winds eastward to Latigo Canyon Road. It starts uphill so that it can cross Tunnel #1 on Kanan-Dume Road; it gradually descends into Newton Canyon and then rises via a series of switchbacks to Latigo Canyon Road. Our hike will then cross the road as the trail again descends into the shady canyon; the turnaround point will be where the trail begins rising steeply in the direct sunlight toward the north end of Corral Canyon Road.