Mentryville Park and Pico Canyon
When:
January 29, 2022 @ 8:00 am
2022-01-29T08:00:00-08:00
2022-01-29T08:15:00-08:00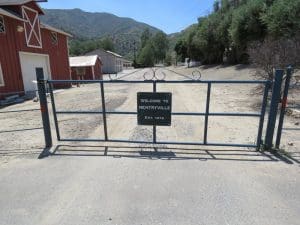 8.5 MRT – Moderate to Strenuous (1,450′ elevation gain)
Meet at the trailhead at 8 AM.
Directions to the Trailhead on "The Old Road" in Santa Clarita: From the junction of I-5 and I-405 (heading north toward Santa Clarita Valley). Drive 8.6 miles north on I-5 to the Lyons Avenue exit (#167).
Take the Lyons Avenue exit and then turn left (west) at the stop sign on the off-ramp onto Pico Canyon Road (the road changes names as it passes over the freeway). Drive west past I-5 2.3 miles to the Y intersection with the Pico Canyon Service Road. Veer left onto the Pico Canyon Service Road and then immediately pull over onto the dirt parking area on the right side of the road and park for free and then walk about half a mile to the park entrance OR drive into the park and pay $5 to park in the lot inside the park.
"Pico Canyon, located in the northern portion of the Santa Clarita Woodlands Park, is home to a rich and active oil history. [We'll] explore the remaining historic buildings of Mentryville, an oil boom town. Pico Canyon features large valley and coast live oaks, chaparral-dominated slopes, and views of Santa Clarita." This will be our third exploratory hike in the area.
For more information about this hike, please see this link: https://modernhiker.com/hike/hike-mentryville-park/