Northern Malibu Creek State Park Loop
When:
March 5, 2022 @ 8:00 am
2022-03-05T08:00:00-08:00
2022-03-05T08:15:00-08:00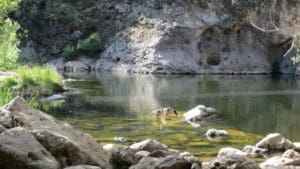 9 MRT – Moderate to Strenuous (1,500′ elevation gain/loss)
DIRECTIONS TO THE TRAILHEAD: Take Madera Road south/southwest to Highway 23. Head south (toward Thousand Oaks) on Highway 23 to Highway 101. Drive 9.5 miles "south" (toward L.A.) on Highway 101 to the Lost Hills Road exit and take the exit. Drive 0.2 mile and turn right (south) onto Lost Hills Road. Drive 1.1 miles southeast on Lost Hills Road to Las Virgenes Road. Turn right (south) onto Las Virgenes Road. Drive 1.6 miles south on Las Virgenes Road to Mulholland Highway. Turn right (west) onto Mulholland Highway. Drive 0.2 mile west on Mulholland Highway and park near the point at which the Grasslands Trail crosses the highway (there are trailhead signs).
Our hike will start (and end) in Malibu Creek State Park at the point at which the Grasslands Trail crosses Mulholland Highway (just west of Las Virgenes Road). We'll follow the North Grasslands Trail and the Liberty Canyon Trail as we head north through the Liberty Canyon Natural Preserve. Then we'll head south as we hike up a north-south ridge on the Phantom Trail which provides panoramic views of Malibu Creek State Park and the surrounding mountains. After we descend from the ridge we'll cross Mulholland Highway and hike the Cistern Trail, the Lookout Trail, and Crags Road to the Rock Pool where we'll take a lunch/rest break. Then we'll complete our loop hike along Crags Road and the Grasslands Trail.