Los Robles Trail via the Los Padres Trail and Oak Creek Canyon
When:
December 4, 2021 @ 8:00 am
2021-12-04T08:00:00-08:00
2021-12-04T08:15:00-08:00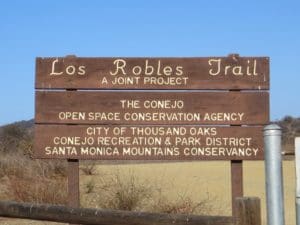 4.5 RT loop – Easy (with 750′ of elevation gain/loss)
DIRECTIONS TO TRAILHEAD: Head south (toward Thousand Oaks) on Highway 23 and drive to its intersection with Hwy 101. Head "north" (toward Ventura) on Highway 101 and stay in the right-hand lane.Immediately take the Moorpark Road exit; get in the left lane on the exit ramp.Turn left (south) onto Moorpark Road and get in the right-hand lane as you pass under Hwy 101; drive 0.35 miles to Los Padres Drive.Turn left (east) on Los Padres Drive and drive about 100 yards. Park on the right (south) side of the street (across from Woodlet Way)
The Los Robles Trail is located in the southern portion of the Conejo Open Space; it stretches from Newbury Park to Westlake and is the only national historical trail in California. Our hike will begin along the shady Los Padres Trail which will lead us to the Los Robles Trail which we'll follow to Angel Vista overlooking the Conejo Valley, Camarillo, Boney Mountain and (weather permitting) the Channel Islands. Continuing on we'll hike the Oak Creek Canyon Loop and then hike a short distance along the street to reach our vehicles.