Alamos Canyon Exploratory #2
When:
December 2, 2017 @ 8:00 am
2017-12-02T08:00:00-08:00
2017-12-02T08:15:00-08:00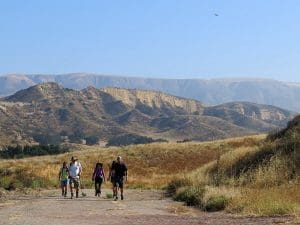 Moderate exploratory hike with an undetermined distance and elevation gain/loss.
Meet at 8 AM.
Directions to trailhead parking:  There won't be an official trailhead until sometime next year, so the Trail Blazers have a special agreement with the Simi Valley Sanitation Department, allowing us to use their gated parking lot for the duration of our hike.  There are three gated entrances to the facility.  Only the middle gate will be open.  The address is 600 W Los Angeles Ave.  From Simi Valley, take the Madera Rd. exit south.  Turn right on W Easy St, which becomes W Los Angeles Ave.  Preceed 0.7 miles and you'll see the facility entrance on your left.
Alamos Canyon in the News:
"Park district to buy half of Alamos Canyon" [Simi Valley Acorn] Please click here.
"Alamos Canyon Deal Done" [Moorpark Acorn]  Please click here.