Little Lakes Valley Base-Camp Backpacking Trip
When:
August 23, 2017 – August 27, 2017
all-day
2017-08-23T00:00:00-07:00
2017-08-28T00:00:00-07:00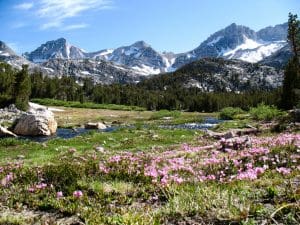 Reservations are required to attend.
This special event is open to active Trail Blazer members only.
Minimum effort, MAXIMUM REWARD
Hike 3.3 miles w/731' elevation gain along lovely Rock Creek to a base camp (10,800') in the John Muir Wilderness in the beautiful Sierra Nevada.
"Mono Divide High Country Trail Map – Shaded-relief Topo Map" (Tom Harrison Maps)
GENERAL INFORMATION (Note: Additional information will be provided to registered participants) – – –
We'll be "car camping" in a regular campground on the first night of our trip.  The next morning we'll pack up and drive 4.7 miles to the parking lot at the Mosquito Flat trailhead at the south/upper end of Rock Creek Road where we'll embark on the 2- to 3-night backpacking portion of our trip (participants may leave on either Saturday or Sunday).  We'll select a base camp location (most likely at/near Chickenfoot Lake) in Little Lakes Valley and use it as our base of operations for our entire stay.  While we're there you can enjoy hiking, fishing, photography, painting, reading, or just kicking back.

NOTE: One of your outing leaders camped in Little Lakes Valley for 5 nights last August while co-leading a group of 14 hikers and he can provide first-hand descriptions and a ringing endorsement of the beauty and diversity of the area.
Since a Wilderness Permit (which we will apply for) is required, there is a maximum group size of 15 participants that may enter the John Muir Wilderness for overnight stays.  There is also a limit of 25 overnight hikers entering via Mosquito Flat in a single day so we may only be able to reserve fewer than 15 spaces.