Las Llajas Canyon and Chumash Trail Loop
When:
January 19, 2019 @ 8:00 am
2019-01-19T08:00:00-08:00
2019-01-19T08:15:00-08:00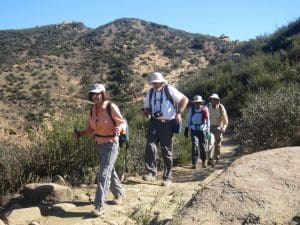 9 MRT – Moderate to Strenuous (2,000′ elevation gain/loss)
Meet at the Las Llajas Trailhead at 8 AM.
Directions to Trailhead: Take the 118 to Yosemite Drive and go left over the freeway. Continue 1.2 miles north on Yosemite Drive, to the intersection with Evening Sky Drive, and then turn right. Drive 0.5 mile east on Evening Sky Drive and park on either side of the street near the trailhead.
Our hike will start at the Las Llajas Canyon trailhead on Evening Sky Drive. We will begin by descending a short paved section of road into the canyon bottom; from there we'll follow a wide graded dirt road along a streambed north through the canyon, crossing the probably dry streambed three times. The steep canyon walls will provide shade as we enjoy an easy 3.5 mile trek up the canyon. Just before reaching the Poe Ranch gate we'll follow a dirt road leading up to an abandoned oil field and then on up to a junction with the Rocky Peak Fire Road. After reaching the Rocky Peak Fire Road, we'll head south toward the upper end of the Chumash Trail. Along the way we'll pass Fossil Hill (named for the shells of sea creatures left behind when the area was under a vast sea) and will be treated to panoramic views of mountains and canyons to the east, south, and west. Upon reaching the upper end of the Chumash Trail we'll follow it down to a connector trail to Evening Sky Drive to complete our loop hike.