Hondo Canyon to Topanga Lookout
When:
June 27, 2020 @ 8:00 am
2020-06-27T08:00:00-07:00
2020-06-27T08:15:00-07:00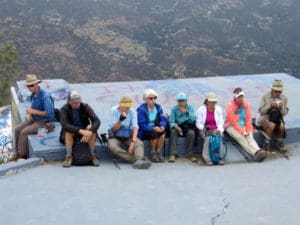 10.7 MRT – Moderate to Strenuous (2,350' of elevation gain/loss)
Meet at 7 AM near Donut Delite at the corner of Madera and Royal.
This spectacular section of the Backbone Trail in the Santa Monica Mountains includes views of pink-colored sedimentary rock formations. The trail crosses a stream near the trailhead and then climbs steadily through live oaks and a sloping green meadow. It soon reaches a wonderful pink gorge on the right with a side path down to a small waterfall. The main trail then begins switching back and forth up the steep north-facing slope of the mountain through a lovely oak forest and then dense chaparral woodland. Along the way there are breathtaking views of the sedimentary rock formation known as the Sespe Formation. Once we reach the Topanga Tower Motorway, we'll take it north to the location of the Old Topanga Fire Lookout. We'll return the way we came.