When:
May 9, 2020 @ 8:00 am
2020-05-09T08:00:00-07:00
2020-05-09T08:15:00-07:00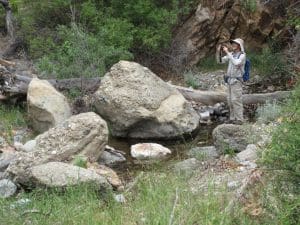 11 MRT – Moderate (~1,000′ elevation gain)
Meet at 7 AM at the 118 & Stearns St. Park & Ride. Bring your camera, water and lunch. Wear boots.
Click here to see a video of the hike.
After driving to the parking area at the gated eastern end of Templin Highway in the Sierra Pelona Mountains just north of Castaic Lake, we'll hike nearly three miles eastward on the no-longer-maintained Warm Springs Fish Canyon Truck Trail to the abandoned Cienega Campground that damaged by flooding in 2002.  Then we'll head north on a lovely single-track trail in Fish Canyon through which a pleasant stream flows.  We'll have many easy stream crossings in the Narrows as it passes through hundred-foot cliffs with red rock walls reminiscent of the Zion National Park's Virgin River Narrows.  We'll turn around at a backpacking campsite where there's a fork in the trail.  NOTE: In 2009 Los Angeles Magazine published a list of "the ten best hikes in Los Angeles" and selected this hike as number one.