East Canyon to Mission Point
When:
March 12, 2022 @ 8:00 am
2022-03-12T08:00:00-08:00
2022-03-12T08:15:00-08:00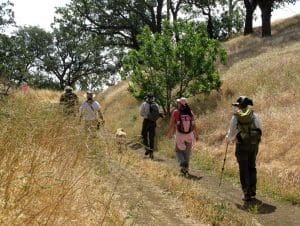 9.3 MRT – Moderate to Strenuous (1,750′ elevation gain/loss)
DIRECTIONS TO THE TRAILHEAD ON "THE OLD ROAD" IN SANTA CLARITA: From the junction of I-5 and I-405 (heading north toward Santa Clarita Valley). Drive 6.5 miles north on I-5 to the Calgrove Blvd exit (#166). Take the Calgrove Blvd exit and then turn left (west) onto Calgrove Blvd. Drive under I-5 to "The Old Road" and turn left (south) onto "The Old Road." Drive 0.8 mile south on "The Old Road" (passing by the entrance to Ed Davis Park / Towsley Canyon along the way) to the entrance of the parking lot at East Canyon.
NOTE: You can park along "The Old Road" next to the parking lot at East Canyon for free, if there's room to do so.
Otherwise, turn right (west) into the parking lot at East Canyon, park, pay the parking fee at the "Iron Ranger," and wait for the hiking leader(s) and the rest of the hikers.
East Canyon is located in the 4,000-acre Santa Clarita Woodlands Park on the northeastern slope of the Santa Susana Mountains. Our well-shaded hike will begin along a small creek, the trail lined with bay laurel, black walnut, cottonwood, sycamore, and oak trees. Soon we'll begin climbing uphill southward on the abandoned East Canyon Motorway with views of steep slopes to the west and relics of the bigcone Douglas-fir trees that once covered the mountain. After cresting the ridge and following the very pleasant Corral Sunshine Motorway to Mission Point, we'll have panoramic views of the San Fernando Valley and beyond.