When:
September 7, 2019 @ 7:00 am
2019-09-07T07:00:00-07:00
2019-09-07T07:15:00-07:00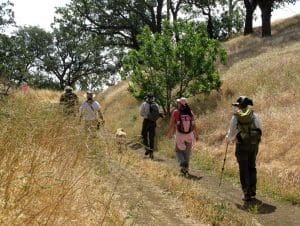 9.3 MRT – Moderate to Strenuous (1,750′ elevation gain/loss)
Meet at the 118 & Stearns St. Park & Ride. Bring your camera, water and lunch. Wear boots.
East Canyon is located in the 4,000-acre Santa Clarita Woodlands Park on the northeastern slope of the Santa Susana Mountains. Our well-shaded hike will begin along a small creek, the trail lined with bay laurel, black walnut, cottonwood, sycamore, and oak trees. Soon we'll begin climbing uphill southward on the abandoned East Canyon Motorway with views of steep slopes to the west and relics of the bigcone Douglas-fir trees that once covered the mountain. After cresting the ridge and following the very pleasant Corral Sunshine Motorway to Mission Point, we'll have panoramic views of the San Fernando Valley and beyond.