Hike the Descanso Trail and Visit Descanso Gardens
When:
April 22, 2017 @ 8:00 am
2017-04-22T08:00:00-07:00
2017-04-22T08:15:00-07:00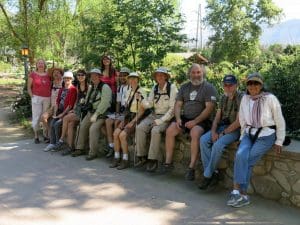 Meet at 8 AM at the 118 & Stearns St. Park & Ride.
DESCRIPTION OF TWO-PART OUTING
FIRST: Descanso Trail Hike (before visiting Descanso Gardens) – 4.8 MRT – Easy (574′ elevation gain/loss)
This is "A recently constructed route above Descanso Gardens to an old Cold War watchtower, this winding trail through the San Rafael Hills provides tremendous views of the San Gabriel and Verdugo mountains."
SECOND: Visit Descanso Gardens (after the Descanso Trail Hike) – An easy two-mile stroll around the grounds with ~250' of elevation gain/loss.
The name Descanso means "place of rest" in Spanish.  Once the family estate of E. Manchester Boddy (publisher of the Los Angeles Illustrated Daily News and a commercial camellia grower) Descanso Gardens today is loved by residents and visitors from around the world.  Come with us to enjoy the beauty of this unique setting which encompasses 150 acres including a Visitor center, a main lawn, a rose garden, a Japanese garden, a lilac garden, two oak forests, a new California Natives garden (8 acres of native plants), an oak woodland, a lake, a promenade, nature trails, a tea house, a picnic area, a bird observation area, the Boddy House, and the Sturt Haaga Gallery.  BE SURE TO BRING YOUR CAMERA.
Hours are 9:00 a.m. to 5:00 p.m. (open daily except for Christmas).
Admission is $9.00/person; seniors 65 and over (and students) $6.00; children (5 to 12 years) $4.00.
Parking is free.
Descanso Café is open daily from 8:00 a.m. to 4:30 p.m.  It offers fresh salads, sandwiches, homemade desserts, ice cream, beer, and wine.
NOTE: The amount of time you want to spend at the gardens will be up to the members of your party (that is, the individuals in the vehicle you arrive/leave in).  There will be no set time limit other than the gardens' closing time of 5:00 p.m.