When:
June 4, 2022 @ 8:00 am
2022-06-04T08:00:00-07:00
2022-06-04T08:15:00-07:00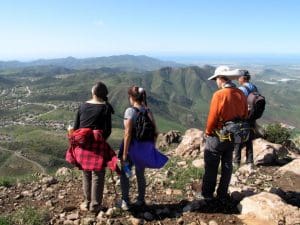 6 MRT – Moderate to Strenuous (1,600′ elevation gain/loss)
DIRECTIONS TO TRAILHEAD:In Simi Valley, take Highway 118 west to Highway 23; take Highway 23 south to Highway 101 in Thousand Oaks. Head west (toward Ventura) on Highway 101; drive 3.5 miles to the Borchard Road/Rancho Conejo Blvd exits. There are two exits; you should take the 2nd exit just AFTER you cross under the bridge over Hwy 101. Then turn right (southwest) on Borchard Road and drive 3.5 miles to its intersection with Via Ricardo. Turn right (northwest) on Via Ricardo and drive 0.5 mile to a signed crosswalk painted on Via Ricardo just west of Via Pisa. There's a "Powerline Trail" sign on the right side of the street marking the trailhead. Park on the right (north) side of Via Ricardo.
Our hike will begin in Newbury Park from the Via Ricardo trailhead as we follow the Powerline Trail up to the Edison Road which we'll follow northward to a spur road which will then take us up to a pair of transmission towers on Conejo Mountain. The landscape up to this point is littered with volcanic detritus and there are nice views along the way. Next we'll follow a "use" trail as it climbs steeply to the west, eventually taking us to the Conejo Mountain "peak" where there are spectacular 360-degree views of both near and distant mountains, the Pacific Ocean and two Channel Islands, and parts of several cities. Hiking poles are strongly recommended.