When:
August 28, 2021 @ 7:00 am
2021-08-28T07:00:00-07:00
2021-08-28T07:15:00-07:00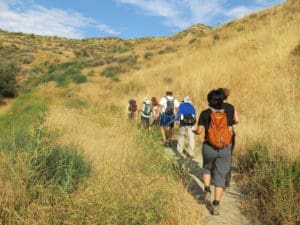 4.6 MRT – Moderate (900′ elevation gain)
DIRECTIONS TO TRAILHEAD: In Simi Valley, take Highway 118 to Yosemite Avenue and exit. Drive 1.9 miles north to Westwood Street. Turn right (north) on Westwood Street. Park in the first block, if possible, or along the north side of Copper Ridge Court (the first street on the right).
We will start our hike by descending into the mouth of Chivo Canyon from Cottonwood Drive. We will then hike up Chivo Canyon to the "Narrows" where private property prevents further exploration. We'll backtrack to the Buckhorn Trail and follow it up to the Marr Ranch Road (MRR) with its vast views; then we'll head south on MRR to the Cappocchi Trail, drop back into Chivo Canyon, and return to the trailhead.