Cheeseboro Canyon – Cheeseboro Ridge Loop
When:
February 3, 2018 @ 8:00 am
2018-02-03T08:00:00-08:00
2018-02-03T08:15:00-08:00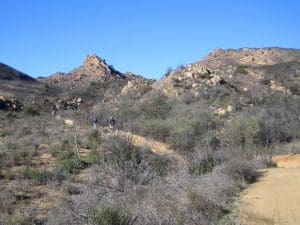 10 mile clockwise loop – Moderate-to-strenuous (1,200′ elevation gain/loss)
Meet at 8 AM near Donut Delite at the corner of Madera and Royal. Bring 2 to 3 quarts of water, lunch and sunscreen. Wear boots.
We'll follow the Cheeseboro Canyon Trail north from the trailhead (1,010') as it gradually rises to Shepherd's Flat (1,535'), passing the Ranch Center Connector Road junction and Sulphur Springs along the way. Then we'll head east on the Sheep Corral Trail to its junction with the Cheeseboro Ridge Trail (aka the Baleen Wall Trail) which we'll follow southward as it rises (and falls) along the ridge (1,840′) to the east of Cheeseboro Canyon until we descend back into Cheeseboro Canyon. We'll enjoy sweeping mountain vistas, oak woodlands, and interesting rock formations during the hike.