Chesboro and Palo Comado Canyon Loop
When:
April 30, 2022 @ 8:00 am
2022-04-30T08:00:00-07:00
2022-04-30T08:15:00-07:00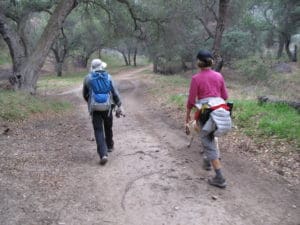 10.3-mile loop – Moderate-to-strenuous (1,200′ elevation gain/loss)
DIRECTIONS TO THE TRAILHEAD: Take Madera Road south/southwest to Highway 23. Head south (toward Thousand Oaks) on Highway 23 to Highway 101.
Drive 7.5 miles "south" (toward L.A.) on Highway 101 to the Chesebro Road exit and take the exit. Drive 0.2 mile and turn left (north) on Palo Comado Canyon Road to cross over Hwy 101. Turn right on Chesebro Road and drive 0.8 mile north to the entrance (on your right) to the parking area. Turn right and drive 0.2 mile up to the large main parking lot.
We'll follow the Cheeseboro Canyon Trail north from the trailhead (1,010') as it gradually rises to Shepherd's Flat (1,535'), passing the Ranch Center Connector Road junction and Sulphur Springs along the way. Then we'll head west on the Sheep Corral Trail as it rises to an overlook (1,693') of Palo Comado Canyon. We'll follow the Palo Comado Trail south and then east as it bends to connect with the Modelo Trail (~1,300') which we'll follow southward along a ridge until it drops down to the trailhead parking lot. We'll enjoy sweeping mountain vistas, oak woodlands, and interesting rock formations during the hike.