When:
July 17, 2021 @ 7:00 am
2021-07-17T07:00:00-07:00
2021-07-17T07:15:00-07:00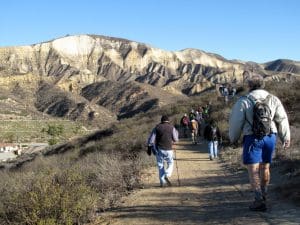 4.7 Mile Loop – Easy to Moderate (875′ of elevation gain/loss)
DIRECTIONS TO THE TRAILHEAD: Take Hwy 118 to the Erringer Road exit. Head north 0.2 mile on Erringer Road (passing Alamo Street) to Big Sky Place (just before the entrance to the Big Sky housing development). Turn right on Big Sky Place, park on the left (west) side of the street close to its junction with Erringer Road.
This hike follows a trail that loops around the Big Sky housing development north of Highway 118. It climbs up an eastern ridge in the foothills of the Santa Susana Mountains then heads north along the ridge providing views of mountains in all directions including nearby Whiteface Mountain. The return portion of the loop winds along the oak-lined stream that runs through the development.