When:
May 2, 2020 @ 8:00 am
2020-05-02T08:00:00-07:00
2020-05-02T08:15:00-07:00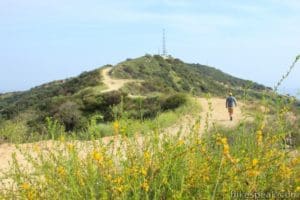 6.2 MRT – Moderate (1,600′ elevation gain)
Meet at the 118 & Stearns St. Park & Ride. Bring your camera, water and lunch. Wear boots.
Our route will begin along a briefly paved stretch, which then becomes a dirt fire road that skirts a flood control facility. After hiking half a mile uphill we'll reach a two-way junction with the Beaudry Motorway. We'll then begin the loop portion of our hike along the Beaudry North section of the motorway (counterclockwise direction). As the dirt road rises to the northwest there will be great views of the San Gabriel Mountains and the Crescenta Valley. About 2.5 miles into the hike we'll turn left onto the Beaudry South section of the motorway. We'll pass by both Tongva Peak and Mount Thom on our way back to the initial trail junction and then back to our vehicles.