Ahmanson Ranch, Lasky Mesa, Las Virgenes Canyon Loop
When:
March 26, 2022 @ 8:00 am
2022-03-26T08:00:00-07:00
2022-03-26T08:15:00-07:00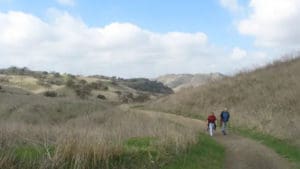 7 MRT – Moderate (800′ elevation gain/loss)
DIRECTIONS TO THE TRAILHEAD: Take Madera Road south/southwest to Highway 23. Head south (toward Thousand Oaks) on Highway 23 to Highway 101. Drive 9.2 miles "south" (toward L.A.) on Highway 101 to the Las Virgenes Road exit and take the exit. Turn left (north) on Las Virgenes Road and drive to the end of the paved road. Park and wait for the hiking leader(s).
Our hike will begin/end at the Las Virgenes Canyon Trail trailhead at the northern end of Las Virgenes Road in the Simi Hills. After a short distance on the trail we'll take the right fork and follow the East Las Virgenes Canyon Trail northeast toward the Victory Blvd entrance to the Upper Las Virgenes Canyon Open Space Preserve (MRCA). Just before reaching that entrance we'll follow a well-maintained dirt road east and then south up to Lasky Mesa where a number of famous movies were (partially) filmed. We'll then follow an old dirt ranch road southwest to the first part of our hike and return to our starting point.