Cloudburst Summit to Buckhorn Campground via Cooper Canyon
When:
November 5, 2016 @ 8:00 am – 3:00 pm
2016-11-05T08:00:00-07:00
2016-11-05T15:00:00-07:00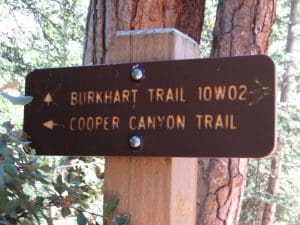 5.5 Miles with a one-way 2-mile car shuttle – Moderate to Strenuous (800′ elevation gain and 1,400′ elevation loss)
Our hike will start along the Pacific Crest Trail (PCT) at Cloudburst Summit (7,018′) where it crosses Angeles Crest Highway. We'll follow the PCT along a ridge with views to the north and south and then descend through "beautiful stands of Jeffrey and sugar pine, cedar, alder, and oak" along the creek in Cooper Canyon. When we reach the junction with the Burkhart Trail we'll descend a steep "use" trail to the pool of water immediately below the 35 foot Cooper Canyon Waterfall (5,656′). We'll then hike up the Burkhart Trail to its trailhead in the Buckhorn Campground (6,411′). Meet at the 118 & Stearns St. Park & Ride at 8 AM. Bring 2 to 3 quarts of water and lunch/snacks. Wear boots.