When:
August 17, 2019 @ 7:00 am
2019-08-17T07:00:00-07:00
2019-08-17T07:15:00-07:00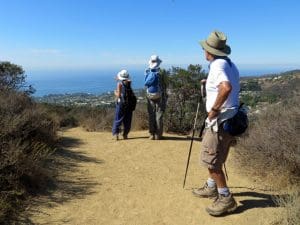 Meet at 7:00 AM at the 118 & Stearns St. Park & Ride. Bring your camera, water and lunch. Wear boots.
9.3 MRT – Moderate (2,000′ elevation gain/loss)
The hike begins in the lower parking lot near Sunset Blvd. It follows Temescal Creek along the bottom of Temescal Canyon and then enters Topanga State Park, passing a small waterfall as the trail rises to provide a 360-degree view of the city, the coastline, and the surrounding mountains. Completing a loop, the hike descends back into Temescal Canyon via the Temescal Ridge Trail. The hike then follows the fairly new Rivas Canyon Trail as it ascends eastward from the conference grounds, climbing a ridge and then zigzagging downward into shady Rivas Canyon, and finally entering Will Rogers State Historic Park near the old Ranch House. We'll then return via Rivas Canyon to lovely Temescal Gateway Park.