Danielson Memorial via the Fossil Trail
When:
September 3, 2022 @ 7:30 am
2022-09-03T07:30:00-07:00
2022-09-03T07:45:00-07:00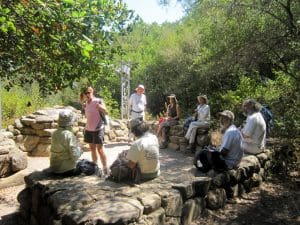 EVENT CANCELED due to an Excessive Heat Warning (Mostly sunny and very hot with a high of 100 degrees). We'll reschedule it at a later date. Thanks for your interest.
7 mile loop – Moderate (1,500′ of elevation gain/loss)
DIRECTIONS TO THE TRAILHEAD: Head west (toward Moorpark) on Highway 118 and continue on the same road as its name changes to Highway 23 when it curves to the south (toward Thousand Oaks). Upon reaching the Highway 23 and Highway 101 interchange, head "north" on Highway 101. Drive 4.7 miles "north" (toward Ventura) on Highway 101 to the Wendy Drive exit in Newbury Park. Turn left (south) onto Wendy Drive and drive 2.9 miles to Potrero Road [where Wendy Drive ends]. Park your vehicle in the dirt parking area on the south (ocean) side of Potrero Road.
Our hike in the Santa Monica Mountains National Recreation Area (SMMNRA) will begin by following the Wendy Trail in Newbury Park to the Satwiwa Native American Indian Culture Center at Rancho Sierra Vista. Then we'll drop into Big Sycamore Canyon and take the Fossil Trail uphill to the Old Boney Trail which we'll follow to the abandoned Danielson Road which will lead us to the Danielson Memorial and the remains of a cabin. As we complete our loop hike we'll stop at a waterfall along the way.